WELCOME TO WAYSIDE
"I will show love to those who were called unloved and, to those who were called 'not-my-people', I will say 'you are my people' and they will answer, 'you are our God'." (Hosea 2:23)
Wayside Presbyterian Church (PCUSA) is a place where the mind is nourished as well as the spirit, and where we affirm the dignity and worth of every person. As we are all created in the image of God, we believe discrimination is incompatible with Christ's Gospel of unconditional love. While we celebrate our Presbyterian identity, we acknowledge that we are not alone on the path to understanding God. We invite conversations that move us to seek a deeper understanding of life in the Spirit.
Join us World Communion Sunday, October 2
as we welcome our Guest Preacher Rev. Dr. Emmanuel Amey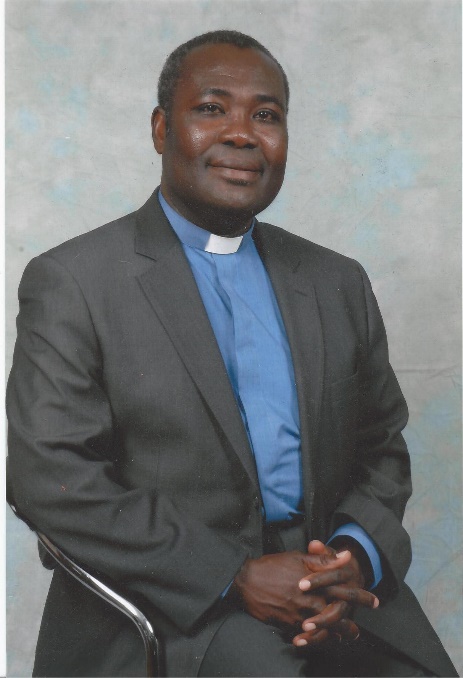 Clerk of the General Assembly
of the Evangelical Presbyterian Church, Ghana
The Reverend Dr Emmanuel Adjei Korbla Amey is a Pastor of the Evangelical Presbyterian Church, Ghana having 26 years' experience serving in the pastoral ministry as a faithful disciple of Christ. Until his election, he was the Presbytery Synod Moderator of the West Volta Presbytery of the Evangelical Presbyterian Church, Ghana, having served in a similar capacity as the first Presbytery Synod Moderator of the Southern Presbytery from 2009 to 2011. Until his appointment as the West Volta Presbytery Synod Moderator, Rev. Amey served as the District Pastor of the London branch of the E. P. Church in the United Kingdom, where he established new branches at Luton, Milton Keynes, Ilford
and Mainz-Kastel in Germany from January, 2011 to March, 2015.
Rev. Dr Amey is a native of Woe, an Anlo urban community in the South-Eastern coast of Ghana. He was born on June 14, 1960 at Tamale, the Northern Regional capital, where his parents, Felix Kodjo Amey, father and Victoria Dorwodoe, mother domiciled for their occupational career engagements. Rev. Dr Amey began his academic life journey at Tishigu Anglican Primary School, Tamale in 1966. In 1970 he dropped out from his basic education temporarily due to ill health. He however, bounced back a year later and enrolled at Our Lady of Fatima Primary School and later, Sakasaka Middle School in Tamale. After his Technical education under the tutelage of one Mr. Kofi Kpatakpa, the zealous budding chap enrolled at Takoradi Polytechnic in 1980 and completed in 1983 with Diploma in Architectural Drawing. After graduation, he gained employment with the Ministry of Finance and Economic Planning (Inspectorate Division) as Technical Officer, where he worked for four years.
In 1985, Rev. Dr Amey began his journey to serve in the Church and as such gained admission into the Evangelical Presbyterian Theological Seminary, Peki where he trained as a Catechist after a year's course. He continued at the Trinity Theological Seminary, Legon in 1986 for his studies in Diploma in Theology in 1989. He also studied in the same institution for his Bachelor of Divinity with First Class Honours and Master of Theology. It is worth noting that Rev. Dr Amey's thesis in the context of African Theology and Traditional Practices have gained overwhelming recognition among many folks. These include "Sacrifice: A Necessary Ministration", for the award of Bachelor of Divinity Degree, "Priesthood in an African Community: A Study of the Anlo Traditional Priesthood and the Challenges it Poses to the Christian Concept of Priesthood", for the award of Master of Theology Degree, and "Fiaside Practice among the Anlo Ewe of Ghana: A Cultic Slavery or An Act of Atonement? A New Testament Perspective, for the award of Doctor of Philosophy Degree in Biblical Studies.
Rev. Dr Amey was commissioned into the Ministry of Christ as a Pastor of the Evangelical Presbyterian Church, Ghana in 1990 and has since served in many congregations and capacities with high spirit of diligence and dedication in the discharge of his stewardship duties. He began his ministerial duties in 1990 as a District Pastor at Evangelical Presbyterian Church, Ghana, Aveme. He also served in the same capacity at Koforidua, Abelemkpe, Bubuashie, North La, and Sekondi-Takoradi Districts in Ghana. He further served as the West Volta Presbytery Coordinator for Church Growth and Evangelism as well as Presbytery Facilitator for Youth Work and Secretary General of the Evangelical Presbyterian Church Pastors' Association.
Rev. Dr. Amey has in February, 2015 successfully completed a Doctor of Philosophy in Biblical Studies programme at Newburg Theological Seminary, Newburg, Indiana, in the United States of America and was awarded Doctorate Degree to this effect.
He is married to Mrs. Caroline Tsordzine Yaa Amey, and they are blessed with a son, Mr Newlife Selorm Kudjo Amey. He is 32 years old.